Whether it is inside or outdoors, step lights increase safety and add an illuminating glow to your home or business. With that being said, Georgia Lightscapes can enhance your landscape, amplify your outdoor lighting or just to make your stairs brighter and more safe. With the Christmas holiday coming, it's important to make sure your home or business is safe for all. Installing step lights for dark pathways is a good way to avoid an accident. Here, Georgia Lightscapes discusses outdoor step lights and why they are important to have at your home or business.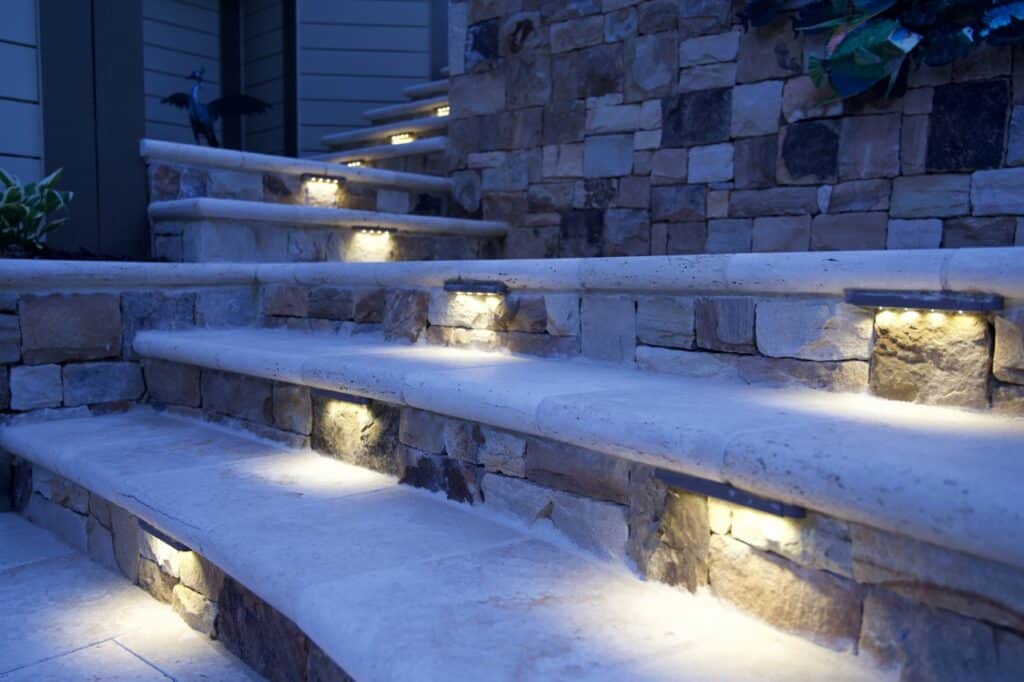 Old Way Of Installation vs. Current Way Of Installation
When it comes to outdoor lighting and steps, there are two basic installation types:
Old Way: Recessed – This is where the outlet box is hidden and the panels are flush with the stairs.
Current Way: Surface Mounted – This type of install step lighting is where the light fixture is on top of the surface.
Increase Step Visibility
Stairs and outdoor pathways are especially hazardous at night when there is no lighting. By installing stair lights, you can bring necessary attention to these hazardous areas. It is important that the lip and tread of each stair are illuminated and visible so that people can see exactly where to step.
In most evening stairway accidents, the steps lighting, or lack of lighting doesn't allow people to differentiate between the tread and the riser. When installing your step lights, keep in mind that the shadow highlights the leading edge of the tread. This allows people to more easily see where the tread begins.
Diminish Glare
In order to fully appreciate quality step lighting, it's important to understand glare. Glare actually diminishes a person's visibility of a step by drawing your eye to the bright light, instead of directing your vision to uneven surfaces. Proper step lighting fixtures must be able to minimize glare from all angles in order to create safe steps to walk on.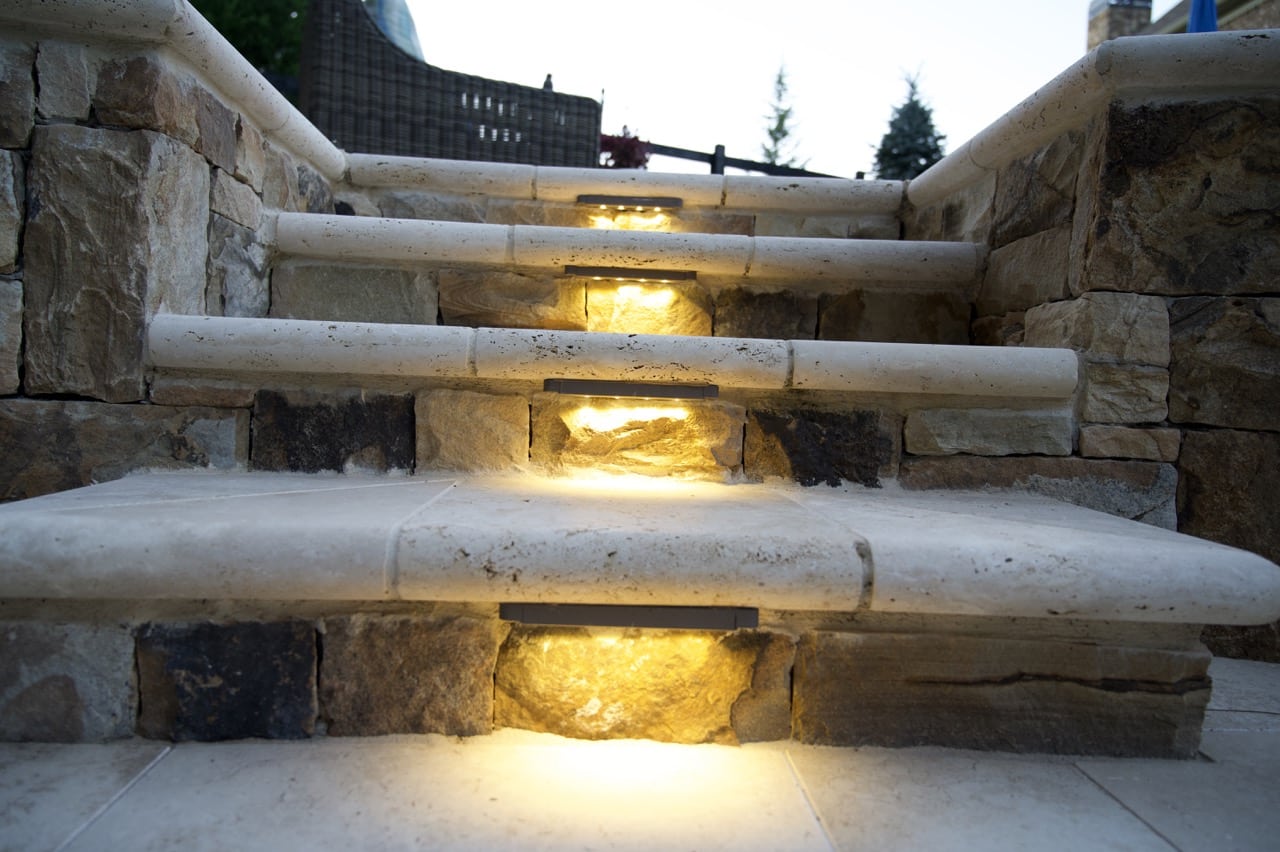 Environmentally Friendly & Cost-Effective
As advancements in lighting technology increase, they provide a variety of step lighting options for your home or business. Not only can you illuminate patios and pool steps, but you can also create lighting pathways in your front or backyard. Keep in mind that using LED-lit artificial landscaping stair lights on your steps offers more benefits, as these types of bulbs reduce power consumption, helping to save the environment and reduce your bills.
Proper Height & Spacing For Step Lighting
For step lights, it is typically preferred to set the light under the stair treads roughly 6″ to 7″ high. This will keep your light fixtures from being too low or too high. It will provide the optimum amount of light to keep you and your guests safe. So how many step lights are needed? Generally, 3-4 feet between lights is optimal. With that though, the location depends on how well the lights provide safety and aesthetics for your steps.
Looking To Install Step Lighting? Call Us Today!
At Georgia Lightscapes, we specialize in outdoor lighting-enhanced landscapes. We have years of experience designing, installing, and servicing all lighting systems and features, including landscape lighting, solar landscape lighting, and sophisticated outdoor features. Our work is consistently complimented on our customers' esthetic value and functionality. We can help with your outdoor lighting needs and save you money too! Contact us today for your outdoor lighting needs.

Call Us Today! 404-369-0199