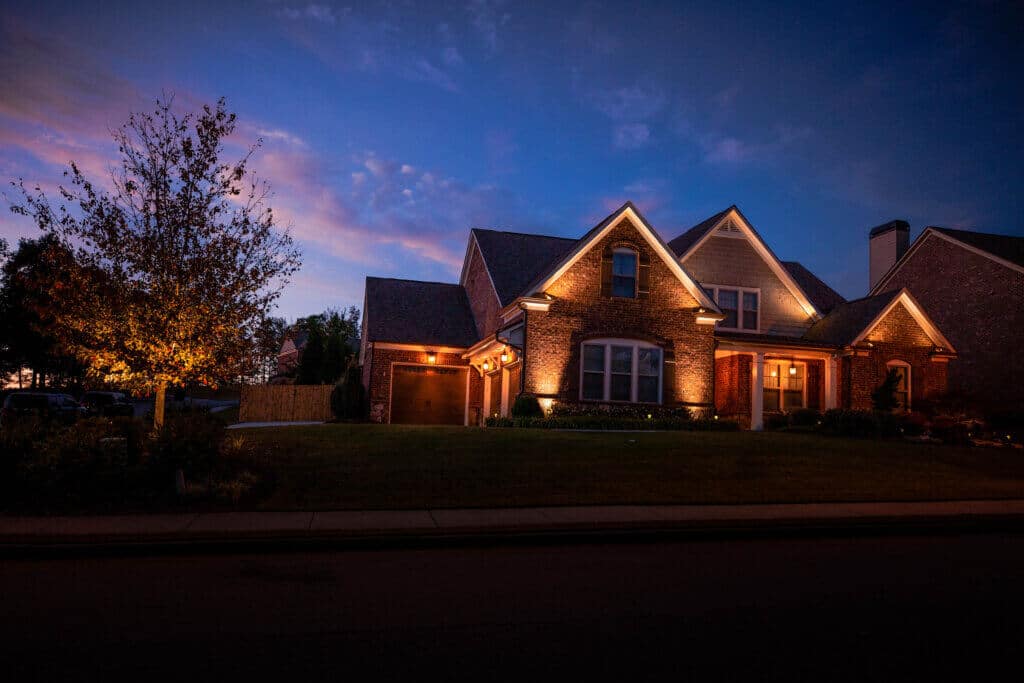 Atlanta Outdoor Lighting
Residential Landscape Lighting
Beautiful Lighting Projects
Light up your outdoor spaces
Beautiful Lighting Projects
Accent Lighting for Home and Businesses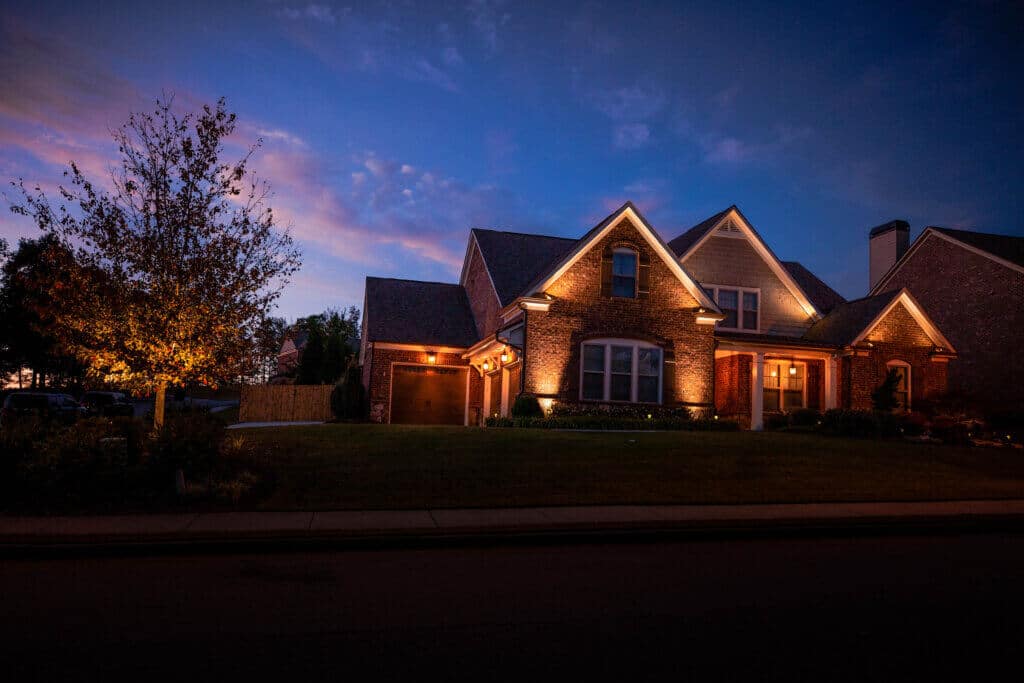 Light up your outdoor spaces
Inspired Residential Landscape Lighting Systems
Georgia Lightscapes provides low-voltage residential landscape lighting and LED landscape lighting for homes in the Metro Atlanta Area. We create inspired landscape lighting systems that showcase homes just like yours.
FEATURES
Electrical Contracting Services
Common Areas and Hallway Lighting
We offer LED Conversions for interior lights. Georgia Lightscapes will take care of your interior lighting needs. We offer LED conversions on the existing hallway, common area, lobby area, storage area, and all other interior lights. We also install new lights to illuminate dark and shadowy corners. New lighting adds light, color and style to interior spaces.
Security Lighting
Enhance safety and security with lighting. Bollards and wall packs are effective ways to light up shadowy and dark areas and bring added security to your facility. With LED lighting, you can have energy-efficient security lights on your properties.
Warehouse Lighting
Bright energy-efficient lighting is essential for warehouses. It provides safety for employees and ease for the many functions of a warehouse. LED lighting is the perfect solution, with energy savings, bright and clean illumination.
LED Conversions
Georgia Lightscapes specializes in turnkey LED lighting conversions for multi-family housing, and commercial and industrial buildings. In other words, we will handle your LED conversion so you don't' have to.
Lighting Systems
Georgia Lightscapes works with you to design an outdoor lighting system that meets your budget and needs, whether it is to illuminate your home in the evening, your outdoor living areas for nighttime enjoyment, or provide functional lighting for increased safety and security. We also offer maintenance and restoration services on our current outdoor lighting systems.
Exit & Emergency Lights
Keep your property safe and compliant with Exit & Emergency Lights. We install new fixtures and can convert existing fixtures to money-saving LED Exit & Emergency lights.
Electrical Contracting
We can install and service charging stations, troubleshoot electrical issues, help you prepare for pool inspections, and much more.
Esthetic Lighting
Entrance lighting, wall lights at the gym, corner lights, and much more. LED lighting enhances and adds nighttime beauty to your entrances, common areas, and much more.
Accent Lighting
Our LED Low Voltage brass up lights add directed illumination and chic style to your exterior spaces Finished in warm matte bronze, this bullet-shaped light features a round, clear tempered glass lens.
Parking Area Lighting
We offer energy-efficient and bright parking garage lights. When creating a safe and secure parking area bright lighting is essential. Older style fixtures generate lots of heat, are expensive to operate, and the bulbs have to be replaced frequently. We recommend energy-efficient LED fixtures for your parking garage. You will see a dramatic reduction in your power bill due to their low energy consumption. The bulbs last 5-7 years with continual use and they generate much less heat than older fixtures. We offer a variety of lumen output, so you can choose how bright you'd like your space to be.
String Lighting
We can install all types of specialty outdoor lights. Looking for string lights for your fire pit? Lighting for your outdoor living kitchen and cabana? A gazebo? We can help you create a unique, gorgeous nighttime lightscape for you. We offer string lights, recessed lights, underwater lights, and much more.
HOA Projects
Light up your neighborhood entrance or bring extra nighttime safety and security to your outdoor areas with Georgia Lightscapes LED lighting systems.
Condominium Projects
Georgia Lightscapes specializes in turnkey LED lighting conversions for multi-family housing along with lighting up common areas, parking garages, walkways, hallways, installing charging stations and more.
Why choose Georgia Lightscapes?
Georgia Lightscapes is a start to finish electrical and landscape lighting installation company in Atlanta, GA. Our goal is to see your home and business beautifully illuminated with outdoor lights and build a long-term relationship with our clients.
Whatever your outdoor landscape lighting project goal is, our primary goal is to make your improvement lighting project a pleasant and rewarding experience. We pledge to provide professionalism throughout the entire project, to pay meticulous attention to quality and service, and to be good stewards of your investment.
Client's Reviews
Nicole Lenyszyn
September 29, 2023.
I absolutely love my new lighting. I highly recommend Georgia Lightscapes. They are very professional and pay attention to detail. You can tell they take pride in their work.
Arron and crew did a great job with installation , they address all issues arising during install and offered a great value for a whole house lighting project, highly recommended.
This review is well overdue. I had Georgia Lightscapes install my lights over 2 years ago and they are still shining bright. I worked with Aaron in the beginning, however all of the staff have been very kind, knowledgable, and easy to work with. Over the years the wind has blown out a few of my lights and they've came out and repaired them at no additional cost. I look forward to working with them on other projects in the future!
Alisha Wyche
March 28, 2023.
Got a quote about 3 years ago and of course inflation. We also wanted to add some light on the sides so all in all it was worth it. Aaron was great during that process and made adjustments. We paid, crew came and completed job. I had a concern about the light coming in our room. Aaron made sure to reach backbout and a plus was that he was accountable the entire way making sure we were completely satisfied and we weren't, he made it right even threw in another light and adjusted the others. We couldn't be happier and what a difference it makes. Huge thanks to Aaron and the crew for the customer service.
Steve Wheeler
March 10, 2023.
We could not have been happier with this team. They came out….made some recommendations and held true to their quote. The team that came out was super friendly and diligent about getting it done. 1000% recommend these folks.
M Salomonson
February 16, 2023.
Georgia Lightscapes did my landscape lighting and their design and install work is second to none. I highly recommend this company. They are super responsive and have always exceeded my expectations with every interaction.
Cindy Stephens
February 1, 2023.
Georgia Lightscapes Installed lights on the rails for my front and back steps. And around my backyard fence. It made a huge difference in the appearance and now I don't have to leave any porch light on. Hands down the best company ever. I will definitely be using them again for future projects
Amazing customer service and management handled a misunderstanding in billing immediately and ultimately owned the misunderstanding. Best customer service I have seen. We have always been super pleased with their product and their work.
Award Winning Service
Our Landscape Lighting Work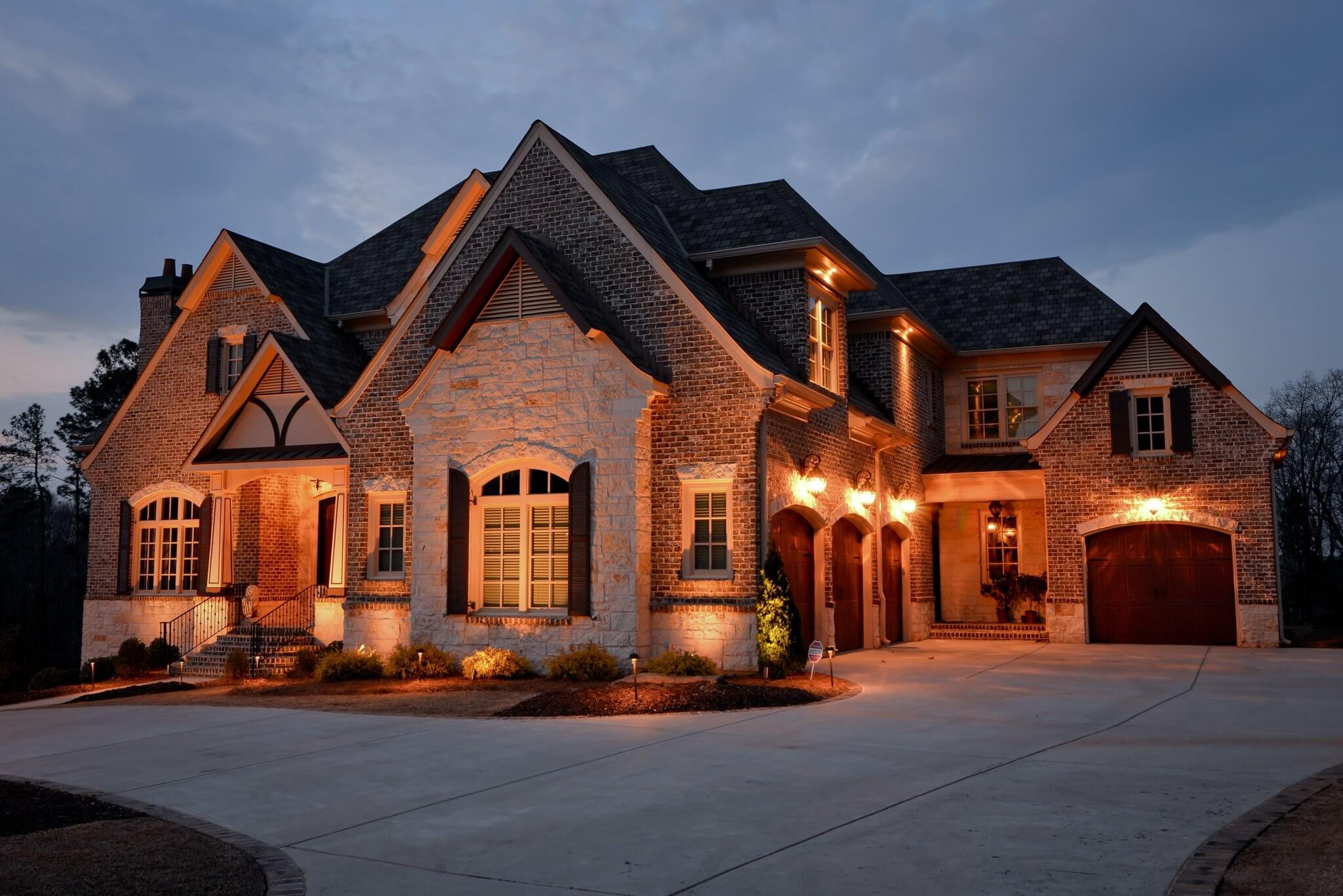 Get some lighting ideas and inspiration
Hours of Operation
MON – FRI
8:00am – 5:00pm
Email us
We're here to help you. Reach out to get your project started or if you have any questions.
Give us a call