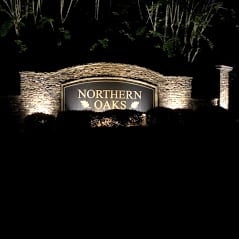 HOA Lighting Projects – Neighborhoods & Homeowner Associations.
It's your neighborhood
Keeping the neighborhood entrance, community area, holiday lights, pool areas, tennis courts, and more is a lot of work! But you're not alone! Georgia Lightscapes supports HOA's across the Metro Atlanta Area.
We work with HOA's and neighborhoods across Atlanta. We understand the pressures of your job and are here to help with your lighting and electrical needs. Georgia Lightscapes specializes in turnkey LED lighting conversions for indoor and outdoor spaces. We can repair and restore your neighborhood entrance lighting, and if it is not already, we can convert it to LED to save money and energy. We also work on tennis court lighting, pool lighting, park area lighting, parking lot lighting, and much more.
Light up your neighborhood entrance or bring extra night time safety and security for your outdoor areas with Georgia Lightscapes LED lighting systems.
See a list of services we specialize in to support HOA's across Atlanta here.
Are you looking to save some money on your monthly power bill?
Check out the benefits of LED lighting here.
Here are a few neighborhoods we currently service:
SugarLoaf Country Club
Towne Lake
Northern Oaks
Bridgemill
Hours of Operation
MON – FRI
8:00am – 5:00pm
Email us
We're here to help you. Reach out to get your project started or if you have any questions.
Give us a call