When people think about "curb appeal", they think about the parts of the home or business that are first seen. The front entrance or entryway is the main focal point when approaching your home or business. Properly lit entrances and pathways allow homeowners to see who is approaching their home, as well as add an inviting touch to their property. Outdoor lighting is very beneficial and important to the curb appeal of your home or business. Here, Georgia Lightscapes discusses entryway lighting ideas and what fixtures we recommend to best achieve your desired look and feel.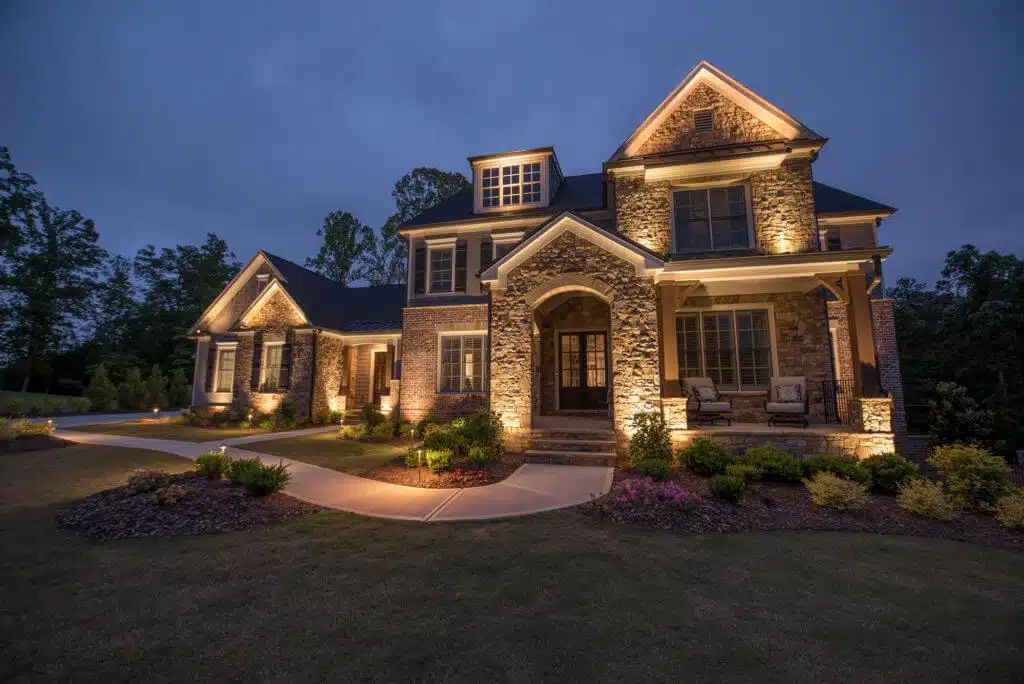 Entryway Lighting Ideas To Consider
Front Door
When it comes to your home or business, safety is always a priority. Illuminating your front door is essential for security, but it can be more than just that. Make your front door the focal point of your curb appeal at night. Replace the light fixtures next to the front door that are old or looks worn out. If you have a single-door entrance, consider a single fixture to highlight the entrance. If you have double doors, dual lights and the use of symmetry is a great way to add the curb appeal you want to achieve.
Porch
Your front porch is a major focal point when someone drives by or comes to your residence. Your front porch should be welcoming and warm. If you have small light fixtures on your front porch, consider replacing them with larger pieces to give you that curb appeal you are wanting to create. Consider a beautiful pendant light or recessed lighting beneath the eaves. This can create a beautiful entrance while additionally giving you enough lighting for safety.
PRO TIP: If you are going to be having guests and want to go above and beyond, consider matching containers for your porch or steps. Add lights to the containers to provide fun subtle lighting for a welcoming entrance.
Front Entryway Lighting
Your front entryway lighting should stand out. It can have a new modern look or more of a unique feel at night just by simply adjusting your outdoor lighting fixtures. Using shields or glare guards is an easy way to direct the guest's line of sight downward. This helps provide safety lighting while highlighting details such as stone entryways or steps. If you want to take things to the next level, consider placing lights in the landscaping along the pathway creating shadow light instead of direct safety lighting.
Landscape Lighting
Homeowners spend a great deal of time and money on landscaping. Why not show it off? Be sure to illuminate your investments, whether it's a few containers or unique gardens that take up the entire front yard. This can be done by uplighting or downlighting. Uplighting creates depth. Putting light in front or behind a tree or shrub casts light on a pathway and extends the look of your yard. Downlighting is best for security and aesthetics. The eye is drawn down to the landscaping details without overpowering the other aspects of your outdoor lighting for curb appeal.
Architectural Features
Every home has unique architectural features you can highlight or accent. Certain homes often have peaks, columns, or other unique features that can increase curb appeal by day or night if illuminated properly. By uplighting, using a flood or wash light on the ground looking up, the height of the home is accentuated. Adding down lighting near the eaves can help highlight modern lines. Consult with a lighting professional at Georgia Lightscapes to find out what would work best for your home or business.

Need Help With Entryway Lighting Ideas? Call Us Today!
Georgia Lightscapes is a start to finish lighting installation company. We provide outdoor lighting solutions for Metro Atlanta and most of Georgia. Our complete outdoor lighting services include design, installation, and superior service to help you in every way we can. We want to build a long-term relationship with you while providing you with excellent outdoor lighting to give you every opportunity to make memories outside with your family and friends – regardless of the hour! Reach out to us with any questions you may have about this process.