You can transform your backyard into a beautiful, relaxing area on a budget this Spring. As the weather warms up in Georgia, it's a perfect time to add outdoor lights to maximize your time spent outside. There are multiple different ways to achieve any look you're going for, so get creative and invest in your yard this spring with these beautiful ideas. Here, Georgia Lightscapes discusses a few outdoor lighting solutions to consider this Spring.
String Lights
As one of the cheaper and underrated options, string lights can truly add a lot to your space. There are various ways you could go about doing this. You could light up a walkway to your backyard, or string lights around an outdoor dining set to add a classy finish. Another easy way is by adding string lights to your porch or deck area since there's a good structure already there to string them along.
Landscape Lighting
Here are a few options for different landscape lights to help you start the process.
Floodlights are extremely common and versatile; they are used as stadium lights, field lights and they are also perfect for homes. Floodlights typically highlight things like trees, garden walls or any other key focal point in your yard. They are also good for security purposes and do well "flooding" light to a wide area – hence their name. Having one above your garage, on the side of your home and in the back is very helpful. They can even detect motion to turn on, so you won't have to worry about wasting energy. There is a lot of versatility with floodlights depending on how bright you want the area to be, which is good because you get to make the choice, and we will help you along the way.
Bullet lights have a narrow shape that gives off a beam of light typically used for lighting tree trunks, bushes or different specific features. With prices ranging from around $12-$50, this is an inexpensive way that can add a lot to your yard with a few lights.
Hardscape Lighting
This lighting is perfect for creating a nice ambiance and lighting your fireplace, stairs and other outdoor spaces. This lighting looks especially good against a stone retaining wall to accent all of its features. It's a simple touch to create an elegant look. Here is work we have done to provide a beautiful light that you can achieve in your backyard too.
Accent Lighting
You probably have multiple things in your yard to show off, so there's a perfect way to do so with accent lighting. One simple and efficient way is to use things like LED balls to throw in your pool to float around and provide light while you swim. Another easy way is to change out the pool light from the basic color to a more fun color like purple or blue! This will give off a nice vibe to hang out by the pool throughout the nighttime and still have plenty of light while you're out there.
If you have stairs leading somewhere outside, you definitely want to light them up well to prevent any accidents from happening. There are many routes to take with lighting stairs. You could choose to go with the traditional strip of light under each stair, or spotlights on the side to shine onto the step. Whichever way you choose, keep in mind that it's important to maintain the lights as well. We will install lights that will last years, but if there's ever any break or problems with older ones you have, we can provide help.
Another cool place to light up if you have one in your garden. Chances are you have spent too much time, energy and money to only let it be seen in the daytime! Here's an example below of what we can install to help you light it up.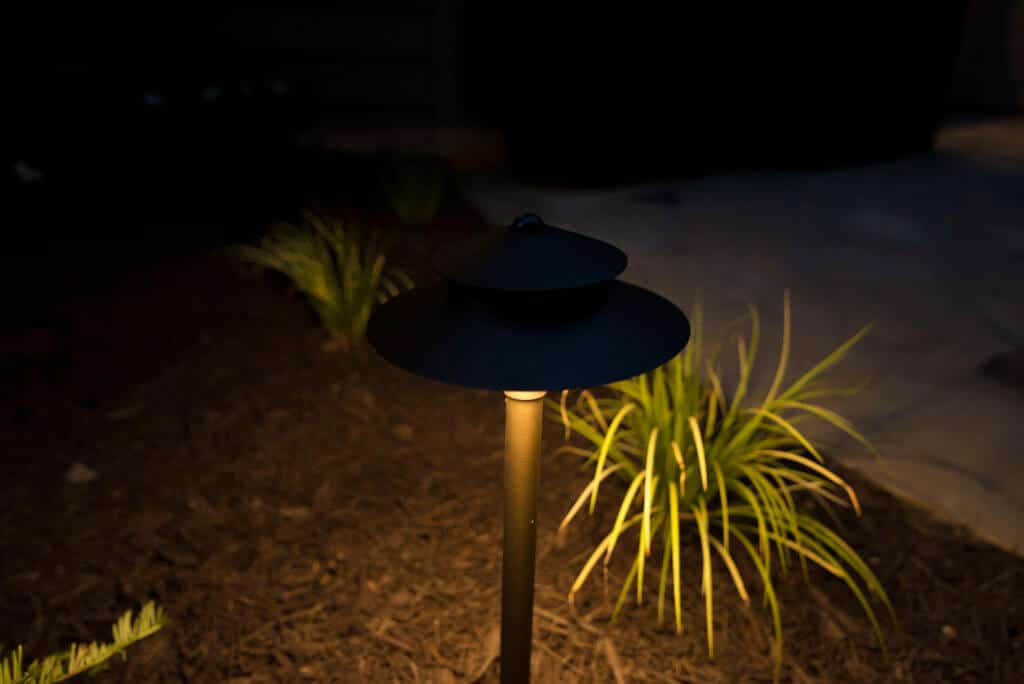 All in all, anything you choose to light your home will transform it into a seemingly new backyard, and we want to help you reach this transformation! Give us a call at 404-974-4632!

Georgia Lightscapes is a start to finish lighting installation company that provides outdoor lighting for Metro Atlanta and most of Georgia. Our complete outdoor lighting services include design, installation, and superior service to help you in every way we can. We want to build a long-term relationship with you while providing you with excellent outdoor lighting to give you every opportunity to make memories outside with your family and friends – regardless of the hour! Reach out to us with any questions you may have about this process.