Oftentimes, we find ourselves wanting to change up the way something looks. Whether this is our own looks or you're deciding to change your home's appearance. You may want to change your interior design, or lighting design or spice up your front yard lighting. This is where we come in to help as your top lighting company! Today, Georgia Lightscapes will share with you front yard lighting ideas to consider in 2022. We will explore various different driveways, walkways, and other front yard lighting options.
Elegant Uplighting
As its name states, up lighting is done by taking lights and installing them facing upwards underneath trees or architectural elements. One of the best and most elegant ways to create dappled shadows on the lawn is by placing a light on a tree facing down. Having a lighting company like Georgia Lightscapes come by to install uplighting or any source of light would take the stress off of your hands and provide top-quality lights to your front yard!
A benefit of adding landscape lighting design is that it boosts your home's curb appeal by expanding light, personality and your own style right outside your home! Not only will this make your home look more beautiful, but also front yard lighting design provides exceptional security by making your entry points illuminated. With the rise of security and doorbell cameras such as Ring, lighting your front yard can truly compliment your security's quality by helping you see better. A well-lit home and front yard is less likely to be vandalized due to the increased chance of being caught.
Pathway Lighting: This is an extremely popular option for homeowners, and a smart investment too. Having professionals, as we have at Georgia Lightscapes, come in and examine your yard to review the options is the best way to light up your home. Pathway lighting adds great light sources around your yard's perimeter to emphasize your driveway and pathway entrances. It is definitely a great choice to consider especially when the sun starts to set earlier towards the end of the year. As it becomes pitch black outside at 5:30pm, you are going to want to see your pathway in order to safely enter your home. This can help prevent accidents such as stumbles, trips, sprained ankles and other minor injuries. This also would greatly assist elderly homeowners. Adding as much precautionary as possible is always beneficial, but especially to those at greater risk of major injuries with falls. The classic pathway light option is amazing for adding to the overall ambiance of your front yard.
Spotlights: Another great lighting design option is spotlighting. These are best for emphasizing your yard and calling attention to specific key points you want to shine bright. This could be showing off specific architectural or landscape features. Whereas floodlights shed light across a wide area, spotlights choose one pin point and illuminate just that, focusing on one item per light.
Hanging Lights: These are ideal for those who want to illuminate their front door, side door, or porch area. They help greatly with illuminating those areas, because it is important to be able to see in order to unlock/lock your doors. Your porch area may be used often, so to maximize your time spent outside, add a beautiful hanging light! This helps add an elegant and sophisticated detail to your front yard lighting.
Mounted lighting: maybe hanging lights isn't your thing in terms of lighting design, if so then mounted lights are the way to go! These can be mounted on either side of your garage door. Also around the exterior walls of your home. Mounted lights are definitely an appeal to your front yard lighting. They will allow you to truly shine brighter and stand out in your neighborhood.
Directional flood lights are also perfect to light up a driveway. Many are even motion censored so they can turn on when it detects any movement around. This definitely helps you become aware of any animals or intruders near your home.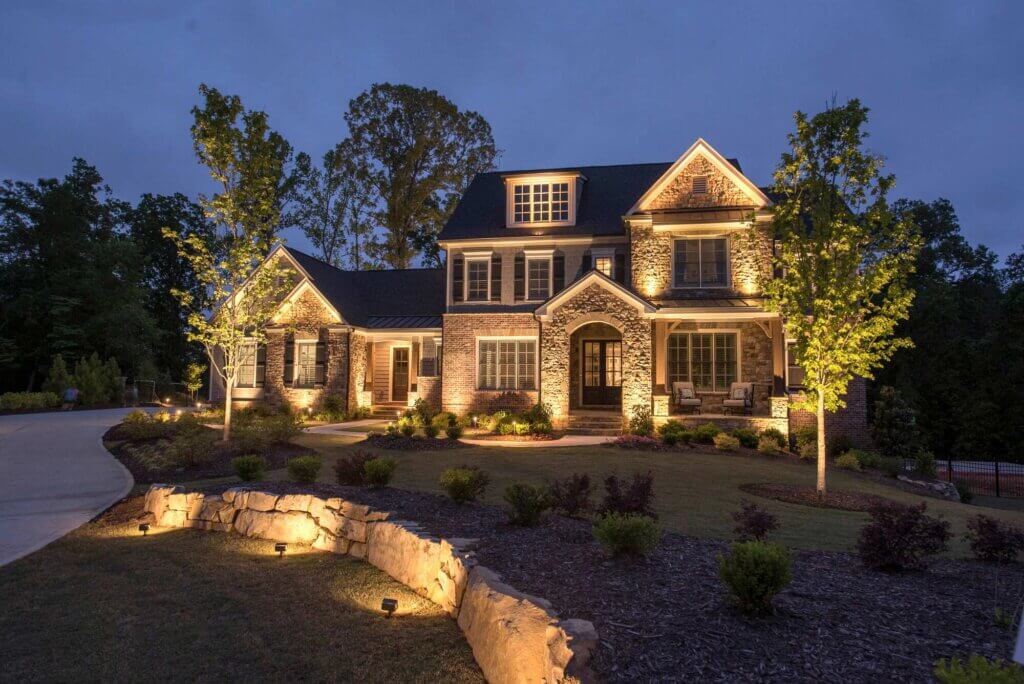 Some important terms to keep in mind when deciding on what type of lighting design to go for are below:
Highlighting – at the base of an outdoor feature. Highlights specific features of your home.
Silhouetting – behind the feature, towards a close wall
Shadowing – at the base of a feature towards a wall
Washing – a few feet away at an indirect angle to a wall or shrubs
Up-lighting – low at the base light like washing, but more direct
Down-lighting – bright and fixed in an eave, trellis, or hardscape
Accenting – angled up or down with a narrow beam from a hidden position
Path-lighting – often staggered, illuminate the entire path, especially steps and obstacles

Reach out to Georgia Lightscapes today to receive help today! We design and install all types of exterior lighting for commercial and residential customers. Serving all of our customers with the utmost integrity and honesty. We provide each customer with the highest quality products and a five-star experience every time.