When it comes to home ownership most families are happy with the house they live in. They want to maximize its beauty and show it off to the outside world. There are many ways to make your home more beautiful and one of those is with lighting. Landscape lighting can enhance curb appeal and creates an inviting appearance when it gets dark. If outdoor lighting is limited or unattractive, your property may not have the same appeal that it does during the day. To make things worse, dark corners can lead to injuries or invite crime. Here Georgia Lightscapes discusses the outdoor lighting and why it is important to homeowners.
Types Of Outdoor Lighting
Up Lights – casting light from a tree's trunk or base of your home upwards
Down Lights – casting light downward on a tree or your home
Deck Lights – lights that illuminate your outdoor decking
Permanent String Lights – lights that illuminate outdoor patios, pool decks, etc.
Pool Lights – underwater lights that illuminate your pool or pond
Path Lights – used to light up any flat landscaping areas that lack trees to use up lighting on.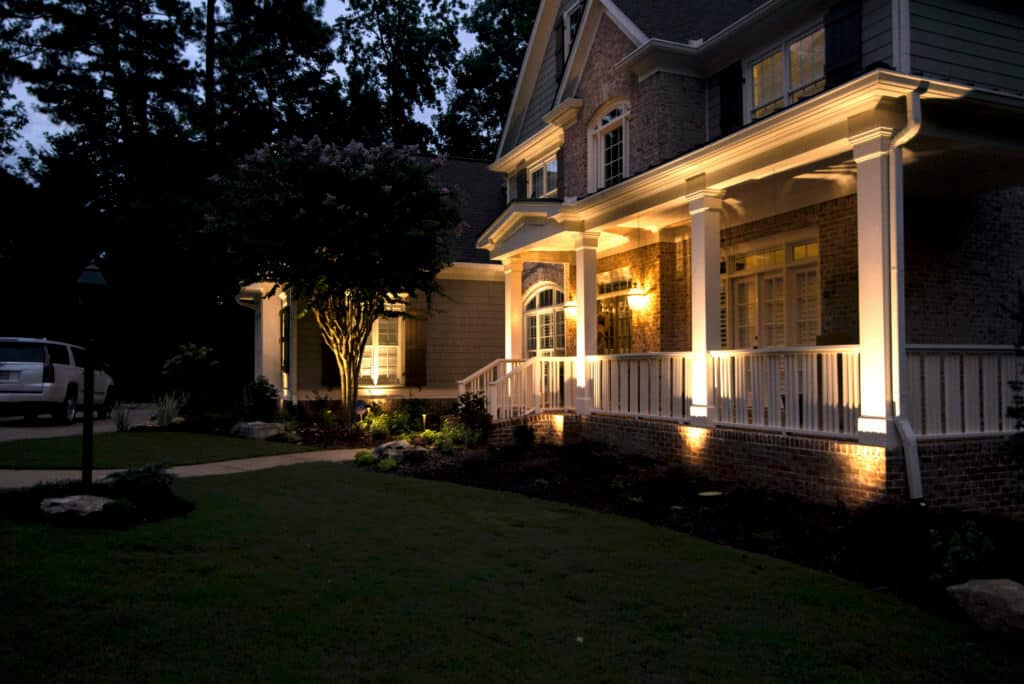 Safety & Security
When you add outdoor lighting, you help keep your home more secure and safe. By illuminating your driveway, entryways, garages or walkways, you can easily see potential intruders on your property. Outdoor lighting can also help illuminate potential dangers like curbs, stairs or even ponds that may not be visible at night. Better lighting creates a more secure home and provides safety and security at night.
Appearance
Outdoor lighting can help the features of your home and yard stand out. Appearance can make or break the first impression of a home. Having the right outdoor lighting creates a pleasing appearance on the entrance, deck or even patio. Outdoor lighting helps in making the exterior of your home more appealing from the sidewalk. It adds a touch of sophistication and class.
If you own a commercial property in a high traffic area, outdoor lighting can draw people in. The essence of color or illumination can be very inviting and draw more business. People generally like to explore cool looking places.
Functionality
With outdoor lighting, you can maximize your property. For some homeowners when the sun goes down the family is driven inside. With lighting you can use the spaces you have at night. This could be to use your grill to cook at night or even use the yard to play in with the kids. Outdoor lighting can also mean nighttime swims in the pool. Our outdoor lighting systems are very simple and installed properly it is very beneficial to homeowners, HOA's, condominium, communities, parks, and other commercial businesses.

Call Us Today
Are you looking to add some lighting to your home? Georgia Lightscapes is Atlanta's preferred choice for outdoor landscape lighting. We create stunning lighting systems that showcase your home, neighborhood and commercial buildings. Using high-quality fixtures and the newest technology we have satisfied clients all over metro Atlanta. Call us today and ask about what makes Georgia Lightscapes the best quality and price in the Atlanta Area.